Ayurpsico®
Ayurpsico is a path of self-inquiry and personal growth. It brings together the three great rivers of knowledge encountered by its creator:
Ayurveda, Yoga and Psychosynthesis.
Ayurpsico facilitates self-discovery, improves the relationship with oneself and with others, increases decision-making power, reduces anxiety, helps discovering one's talents, attain self-renewal and rediscover the joy and lightness of being.
Ayurveda
Provides a deep and clear understating of the natural laws that regulate the physical and mental body, whose harmony is a fundamental condition for peaceful self-inquiry.
Yoga
Offers a universal philosophical thought that motivates and guides self-realization, which is an innate possibility of each individual.
Psychosynthesis
Its contemporary method, simple and direct, helps to overcome the limits of personhood through a process of harmonization fully respecting the growing pace of each individual.
These three disciplines are all concerned with purifying mental contents first, to achieve the same goal of self-realization, when the personal self merges with the Universal Self. The wealth of pearls, precious stones and jewels that these three Queens place in the common safety box make Ayurpsico® a priceless treasure.
Discover yourself through self-observation, by listening to yourself and others and listening to others within yourself!
From sincere and benevolent self-knowledge, the path leads to a happier and more fulfilling life through the realization of your own potential, which will take its natural direction and yield its wonderful fruits.
The transformation of the personality from a mask that hides a face to an instrument that plays the music of the soul!
Ayurpsico® is an opportunity for self-inquiry and personal growth, in the dual relationship with oneself and with others. It is open to anyone who wishes to seize it. It represents an effective tool in the Helping relationship: it transforms the heavy sense of inadequacy into benevolent self-acceptance.
In a world where the pursuit of technology and material well-being occupies a large part of our lives, the safest investment is that aimed at personal growth, the only everlasting value that makes life better with ourselves and with others. While banks may go bankrupt or drastically affected by inflation, the existential account will always be in surplus if nourished by evolutionary experiences.
"We need wise and compassionate people working with altruistic ways and purposes,

not only to alleviate suffering,

but to awaken themselves and others "

(R. Walsh)

 
This sentence greatly resonates with me and I thank the author, from the bottom of my heart, for being able to express in such clear words a strong aspiration of my soul.
I also wish to thank the Dalai Lama; when I went to Livorno in June 2014, among the many teachings that He expressed with His grandiose Simplicity at one point He said: "it is imperative to attribute time, space and importance to the education of emotions in the West". He spoke of how, according to him, it was essential to let this teaching enter in the schools…
We were in several thousand people at the building that day, but it was as if I were all by myself, completely present, standing in front of him and receiving this invitation to work on emotional education.  In my heart, I assured Him that I would have seriously collected his invitation obeying to what our souls were deeply sharing.
Great Masters speak to us directly to the soul!!! And here is Ayurpsico®: linear, effective, benevolent, intriguing and joyful!
A precious chain in which alternate:
Uniqueness, Unity, Universality
Love, Determination, Clarity
Freedom
Study and practice, observation and silence, conversation and listening, presence and freedom, uniqueness and authenticity.
THE CREATOR OF AYURPSICO®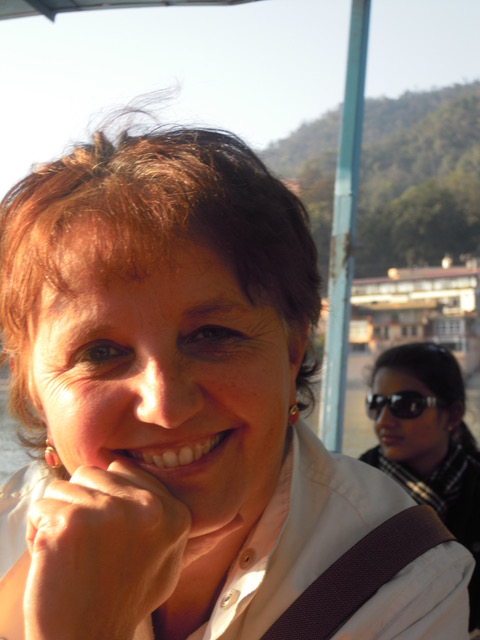 Since I was a girl, I have always looked for the hidden meaning of life. I explored different cultural environments and I chose to study Psychology expecting exhaustive answers. I, thus, graduated from the University of Padua in 1978 without finding answers to my inquiry.
"Fate" wanted me to spend a whole year in India in 1981. There, the first comprehensive answers began to arrive thanks to a life-changing encounter, which took place in Srinagar, with a Yogi wrapped in the vow of Silence.
My inner inquiry met the master guide of Yoga and Ayurveda, philosophies and practices of life that have accompanied me since.
Yoga as a way of realization grounded in the Vedanta Tradition, of which the aspects of meditation and selfless service most resonated and still resonate with me today.
I studied Ayurveda  thoroughly with Dr. Bhagwan Dash and Dr. Lalitesh Kashyap for about twenty years, and I trained as Naturopath in Ayurveda.
More recently the meeting with Assagioli's thought in Florence completed  my psychological training as a certified Psychosynthesis Counselor and Group Leader.
Yoga, Ayurveda and Psychosynthesis: the three pillars on which I founded Ayurpsico®.
I have pilgrimaged on the roads of India since the 1980s and I have stayed regularly at Ashrams and Ayurveda centers.
The Ganges, the slopes of the Himalayas, Kerala and Tamil Nadu are my favorite places.
After all these years, India still manages to nourish me with that maternal generosity that pours out naturally and spontaneously on the groups of students who, also, come on the trips that I lead together with my husband, a precious companion and witness of life.

Sorry, no posts matched your criteria.